Rugby World Cup 2011: Daniel Carter back as New Zealand aim high
•
Richie McCaw will also return and win 100th cap
New Zealand face France in Pool A decider on Saturday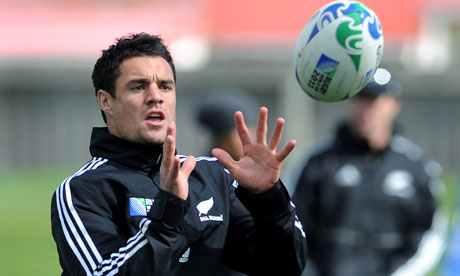 The New Zealand outside-half Daniel Carter has recovered from a back injury and is available for Saturday's Pool A decider against France at Eden Park.
Richie McCaw will return to lead the hosts and win his 100th cap in a match the All Blacks say they are desperate to win, even though heading the group will potentially offer a more hazardous route to the final.
"Dan is ready to go and that is big for us," said the New Zealand assistant coach, Steve Hansen. "You always want your great players available for selection."
There has been consternation here at the team chosen by France, which contains the scrum-half Morgan Parra at outside-half. The perception is that Les Bleus will be content to lose the match and give themselves a path to the final that is likely to include England, Ireland and Wales.
"It looks a good side," said Hansen. "We will treat them with the utmost respect, as we always do. We are preparing as if it is the best team France could pick. Who are we to say what is their best combination for this match?
"They have gone for Parra out of position, but when we picked Richard Kahui on the wing everyone thought we were crazy. It has not turned out too badly and you have to do what you consider best for your team. Parra is playing in a position that internationally is new to him and it would be very remiss of us if we didn't pay him some attention."
Hansen said New Zealand's focus was on finishing first in the group and that whoever they would then face in the quarter-finals and beyond was irrelevant.
"We'd like to finish on top of the pool," he said. "We don't really care who we play, we just want to be in it. We'd get hung from the highest tree in New Zealand if we go out and try to lose a Test match. It's not in our psyche. New Zealanders expect the All Blacks to go out and play the best they can, whoever it is."
Wales will decide after their pool game against Namibia in New Plymouth on Monday whether to summon replacements with the flanker Dan Lydiate and the full-back James Hook unlikely to play again before the knock-out stage.
Lydiate strained ankle ligaments against Samoa last Sunday while Hook suffered a shoulder injury. Hook will be assessed later this week and is expected to return to action before Lydiate.
"We want to give them as much time as possible," said the Wales forwards coach, Robin McBryde. "We do not have to rush into a decision and we have players who can cover in the back row, such as Alun Wyn Jones. The medical team are working around the clock."
The outside-half Stephen Jones, who has yet to play this tournament, has returned to full training and he is expected to be joined by the back rower Ryan Jones, whose last appearance was against England at the beginning of August.
Three potential back row replacements have been ruled out by injury, including the Australia-based Gareth Delve, who has had knee surgery, leaving Jonathan Thomas the likely replacement if Lydiate is ruled out.
"I think we have got to be realistic," said McBryde. "If we pick up any more injuries on Monday, we will have to reassess the situation and move pretty quickly then. We will see how we get through the game."