All Blacks: Carter or Cruden? Hansen's big decision
When Daniel Carter is declared fit to play again, All Black coach Steve Hansen will have to make one of the tougher calls of his coaching tenure.
The All Blacks have the best and second best first-fives in rugby.
They have in Carter the greatest all round No 10 to ever play the game. And in Aaron Cruden, they have one of the best dry-track operators since Carlos Spencer.
Cruden, who played what Hansen reckoned was his best test on Saturday night, can harness all the explosive power of this All Black team. When the tight five give him the platform, Cruden can be deadly. His control, his poise and his decision-making were all superb at Eden Park.
His ability to run into holes, to bob and weave and turn half a metre into half an acre was priceless. Even his defence in Auckland was up there, close to the brilliance so regularly produced by Carter.
Cruden's glorious performance has made it awkward for the selectors to immediately return Carter to the All Black No 10 jersey when he recovers from his broken leg.
At the moment, the most likely return date is the test against the Pumas in Argentina at the end of September.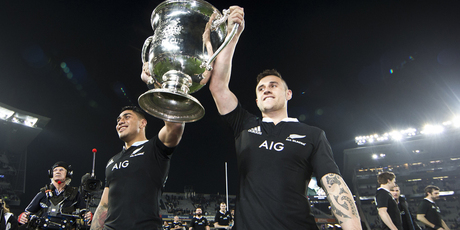 Awkward, not just because Cruden played so well but also because it took character, poise and maturity for him to deal with the inevitable anxiety and pressure he would have felt coming into the second test having personally failed to deliver anything in the first.
Awkward because Carter doesn't have quite enough rugby behind him this year to have provided a good gauge of where he truly is physically and mentally. Awkward because while Cruden was excellent at Eden Park, there are still concerns about how well suited he is to drive the team in adverse weather or when the pack has parity rather than domination.
"Last week was pretty difficult for everyone. I wasn't so happy with the way that I performed or the game plan that we produced," said Cruden.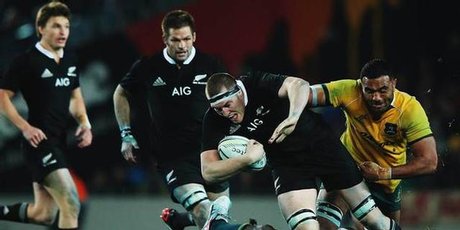 "I just wanted to get out there and play my natural game and get the ball in hand.
"The forwards set the platform and allowed me to do that. We were on our toes and didn't get on our heels the way we did last week. We wanted to take it to Australia the way they did last week.
"We wanted to be in control of the tempo of the pace of the game and it was rewarding to see the tries we produced. It makes the job of a No 10 pretty easy when the forwards are rolling and getting that momentum.
"I am pretty happy with how I went. I know I can sharpen up in a lot of areas and be better than that."
It's likely that Cruden will now have another two tests - against Argentina in Napier and South Africa in Wellington - to make the selectors' decision when it comes that little bit more awkward.
Carter, who broke his leg in the Super Rugby final, may be available for Canterbury in the next few weeks, with a view to travelling with the All Blacks to Argentina.
"He won't be available to play for us until probably the week of the Argentina away game," said Hansen. "But we're not going to rush that either. We want to make sure that he's right to play ... we won't just rush him straight in, we want him to be really comfortable and excited about being back when the time is right for him to be back."
OPTA MATCH STATS